Main content starts here, tab to start navigating
Menus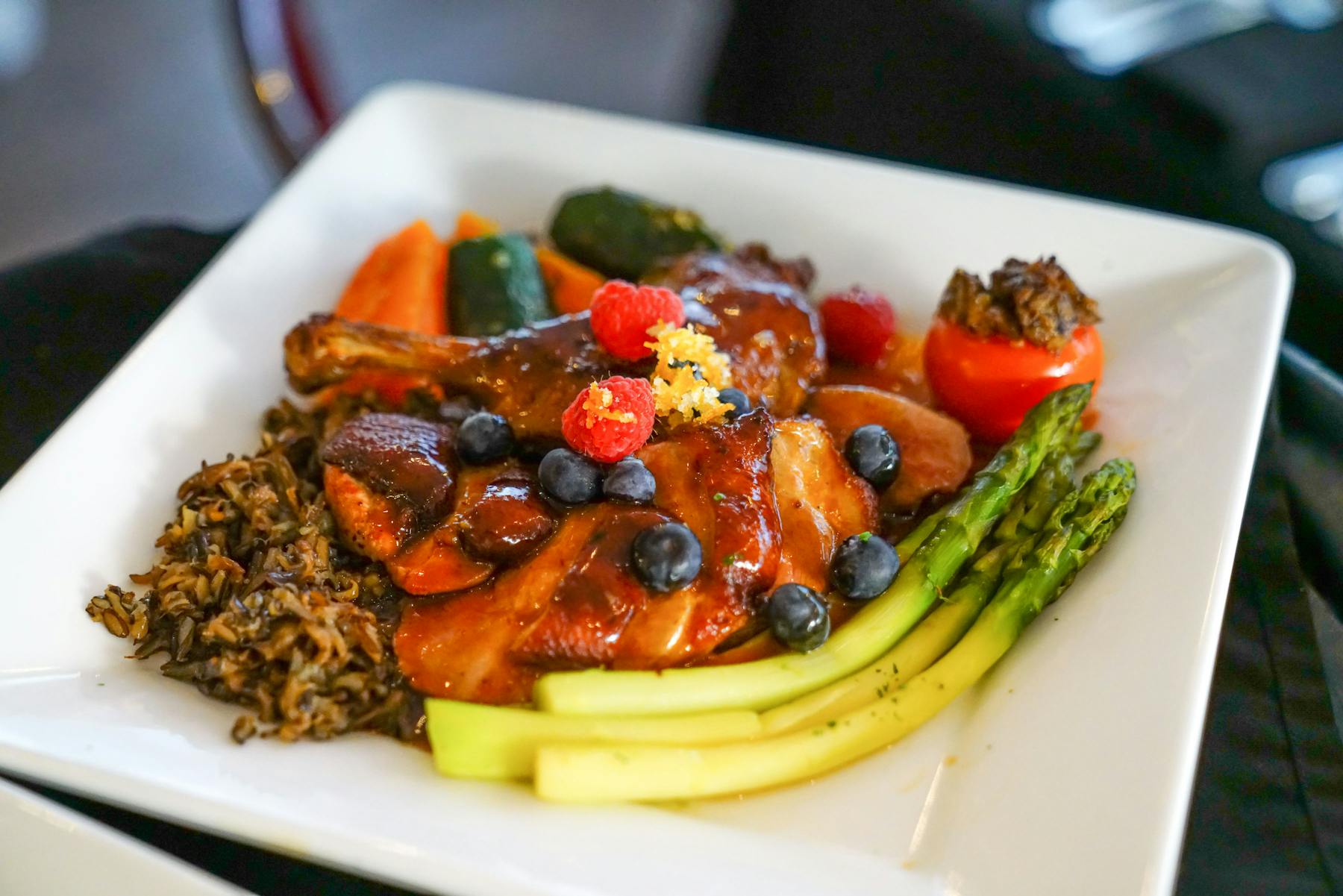 For over 130 years and counting, The Historic McFarland House Inn & Restaurant has been a cornerstone of taste, tradition and civic pride in Martinsburg, West Virginia. Built by Alexander B. Parks in 1878, the home's elegant legacy lives on in the food and festivity created within our venue today.
Parks, a leading businessman and politician, was an entrepreneur with a passion for fresh, healthy produce. As an elected state senator, he introduced a bill that became the WV Department of Agriculture. As president of the National Fruit Company, (better known today as White House®) Parks had a commitment to local food and farm-fresh ingredients. Parks' devotion to native foods is alive and well in our kitchen today. We are committed to the same foundation that nearly all of the food prepared here is sourced within 100 miles of Martinsburg.
In 1934, the local community honored Parks for his outstanding contributions, inducting him into the Berkeley County Hall of Fame.
"Welcome to Our House" The Historic McFarland House Inn & Restaurant.
We strive to far exceed your expectations with us
Our food is locally sourced, extremely fresh, and organic whenever possible.
We take great care in having you with us and want you to enjoy yourselves immensely.
Relax, Sip, Savor, and Enjoy! Bon Appetit!
OUR CHEF'SMISSION!
Artistic Cuisine with the greatest depth of flavor...... Merci Beaucoup!
Appetizers & First Course Selections
Our Soup du Jour

Chef 's Daily Creation

MP

House Organic Field Green Salad

Organic Lettuces, Cucumbers, Shaved Radish, Campari Tomatoes

$10

Maytag Bleu Cheese Salad

Caramelized Apple, Spiced Pecans, Tomatoes, Hard-Boiled Farm Egg

$12

Fresh Goat's Cheese Salad

Endives, Enokis, Roasted Beets, Aged Balsamic Reduction, Champagne Vinaigrette

$14

Forest Mushroom Crepe

Madeira, Duxelles, Essence of Truffles

$12

Hudson Valley Foie Gras

Chef 's Brioche, Brandied Cherries, Bigarade

$24
Interesting & Eclectic Main Course Selections
My Grandmother's Delicious Organic Chicken Pot Pie

$18

Vegan Thai Curry Vegetables

Spicy Green Curry, Jasmine Rice

$19

"A Taste of Italy"

Chef 's Authentic Homemade Meatballs, (Polpettine) San Marzano Sauce, Reggiano, Basil

$24

Today's Catch

Chef 's Creative Offering of the "Freshest Fish" available

MP

Seared Deep Sea Diver Scallops

Sauté Provençale: Ratatouille Niçoise

$34

Our Favorite Maryland Jumbo Lump Crab Cakes

Real Maryland Eastern Shore Blue Crab, House Remoulade, Freshly Seasoned Vegetables

$39

8oz Filet Mignon

Center Cut, Garni du Chef, Forest Mushrooms, Madeira Wine, et sa Bearnaise Sauce

$40

Chateaubriand for 2

Served Tableside: "Bouquetier du Chef "

$79

(Please allow 30 minutes for careful preparation)

The Chef's Surprise

A complete Repast with Intermezzo: IF we told you it wouldn't be a surprise now would it? For your entire party only.

MP

Check out Chef's Delightful Dessert Selections Menu to complete your culinary journey!

*Note the Grand Marnier Souffle Must be ordered with your Main Course Selection
* Menu Subject to Change based upon what is fresh & available in the market. Consumption of Raw or Undercooked Meats, Eggs, and Shellfish may increase your risk of foodborne illness.
McFarland House Aperitif

Our House Blend of Raspberry Liqueurs and Champagne

$12

Smoked Manhattan

bourbon / mezcal / sweet vermouth / bitters

$12

McFarland Margarita

tequila / lime/ meringue / wine and Luxardo reduction

$11

Calimocho Cocktail

brandy / red wine / Coca Cola and sweet vermouth reduction / CO2

$10

Negroni

gin / sweet vermouth / campari

$11

POM

pomegranate Vodka / Lime / simple / ginger beer / CO2

$12
Bubbly and Sparkling Wines
Pfister Cremant d'Alsace 2015 $55

La Marca Prosecco $8 - $30

Nicholas Feuillatte Split $27

WycliffBrut Sparkling $7 - $26
Chardonnay
Rodney Strong $9 - $34

Unoaked Jefferson VA 2017 $38

Jefferson Reserve VA 2017 $49
Sauvignon Blanc
Chateau Ste Michelle $7 - $26

Delaporte Sancerre France 2018 $68
Burgundy
Bellenos Gamay Rose 2017 $10 - $38

CH Haut la Pereyre Bordeaux 2016 $48

Pierre Gelin Fixin Rouge 2016 $85
Fortified Wines
(Glass)

Grahams 6 Grapes Ruby Porto Res N/V $11

SandemanTawny Port $10
Cabernet Sauvignon
Hobbs Cabernet Sauvignon Crossbarn Sonoma 2015 $120

Lewis Cellars Cabernet Sauvignon 2016 $145

Silver Oak Cabernet Sauvignon Napa 2014 $195

Joseph Phelps Insignia 2014 $350
Pinot Noir
Four Bears Pinot Noir California 2017 $40

Naked Grape $7 - $26
Rhone
Perrin Bros Cotes du Rhone 2016 $44

Chateau Beaucastel Chateauneufdu Pape 2012 $175
Bordeaux
La Fleur DORSauternes 2014 $59
Brunello
Mocali Brunello di Montalcino 2013 $110
Amarone della Valpolicella
Sant Antonio Amarone 2015 $120
Every Week Favorites
Brioche French Toast

Thick Sliced Smoked Applewood Bacon

Chef's Family Homemade Sausage

Potatoes Lyonnaise

Grandma's Flakey Homemade Biscuits with Sausage Gravy

Fresh Steamed Jumbo Shrimp

Seasonal Homemade Soups (Lobster Bisque, Mushroom, and others)

Delicious Seasonal Quiches

Made-To-Order Omelette and Crepe Station
Cash Bar
Unlimited Mimosas and Bloody Marys

Freshly Squeezed Orange Juice
Dessert Station
Fresh Seasonal Fruit

Best Ever Chocolate Chip Cookies

French Custard Parfaits

Apple Crisps

Cherry Tarts

Freshly Baked Cinnamon Rolls

Assorted Homemade Pastries

Greek Yogurt and Granola
Chef's Weekly Specials
Chef Walden introduces 3 or 4 new dishes each week depending on what is fresh and in season locally. He makes everything from scratch — his breads, soups, quiches that include keto-friendly, gluten-free dishes. His Eggs Benedict and "Not Yet Famous in Martinsburg" Blueberry Pancakes are crowd favorites. Each week he uses over 300 locally-sourced organic eggs in what he serves for Sunday Brunch.
My Grandmother's Chocolate Lover's Pie

And Chantilly Cream

$10

Warm Honey Glazed Apple Tart

A La Mode, Caramel Sauce

$12

Tahitian Vanilla Crème Brulee

$10

Chef's Selection of Artisan Cheeses

Fig Jam, Membrillo, and Ruby Port

$18

McFarland House Gateau du Jour

Today's "from Scratch" Delicious Cake

MP

Toasted Pecan Tuile

Mixed Berries, Ice Cream, Myers Rum Sabayon

$14

Grand Marnier Souffle

Must be ordered with your Main Course Selection!

$16

Perhaps an after-dinner drink? Superb Irish Coffee, Cordials, Ports, Cognacs, and Fortified Wines
Thursday Three-Course
Three Courses for $29.00 Only on Thursdays 5 pm - 6 pm
Select 1 Course from Each Section Below
Appetizers & First Course Selections
(Choose 1)
Chef's Delicious Potage Du Jour

Daily Presentation

McFarland House Salad:

Crudités, Our House Vinaigrette

Shrimp "Martini"

Radish Sprouts, Vermouth
Main Course Selections
(Choose 1)
Beef, Pork, and Veal Meatloaf:

Mushroom Demi, Whipped Potatoes, Bouquet

Poisson Du Jour:

Chef's Daily Offering. Simply Delicious!

Organic Chicken "Pot Pie"

A Mon Facon! (My Way!)
Delicious Dessert Selections
(Choose 1)
Grandmother's Apple Tart

Dark Chocolate Mousse

Vanilla Ice Cream and Hot Caramel Sauce