Main content starts here, tab to start navigating
Menus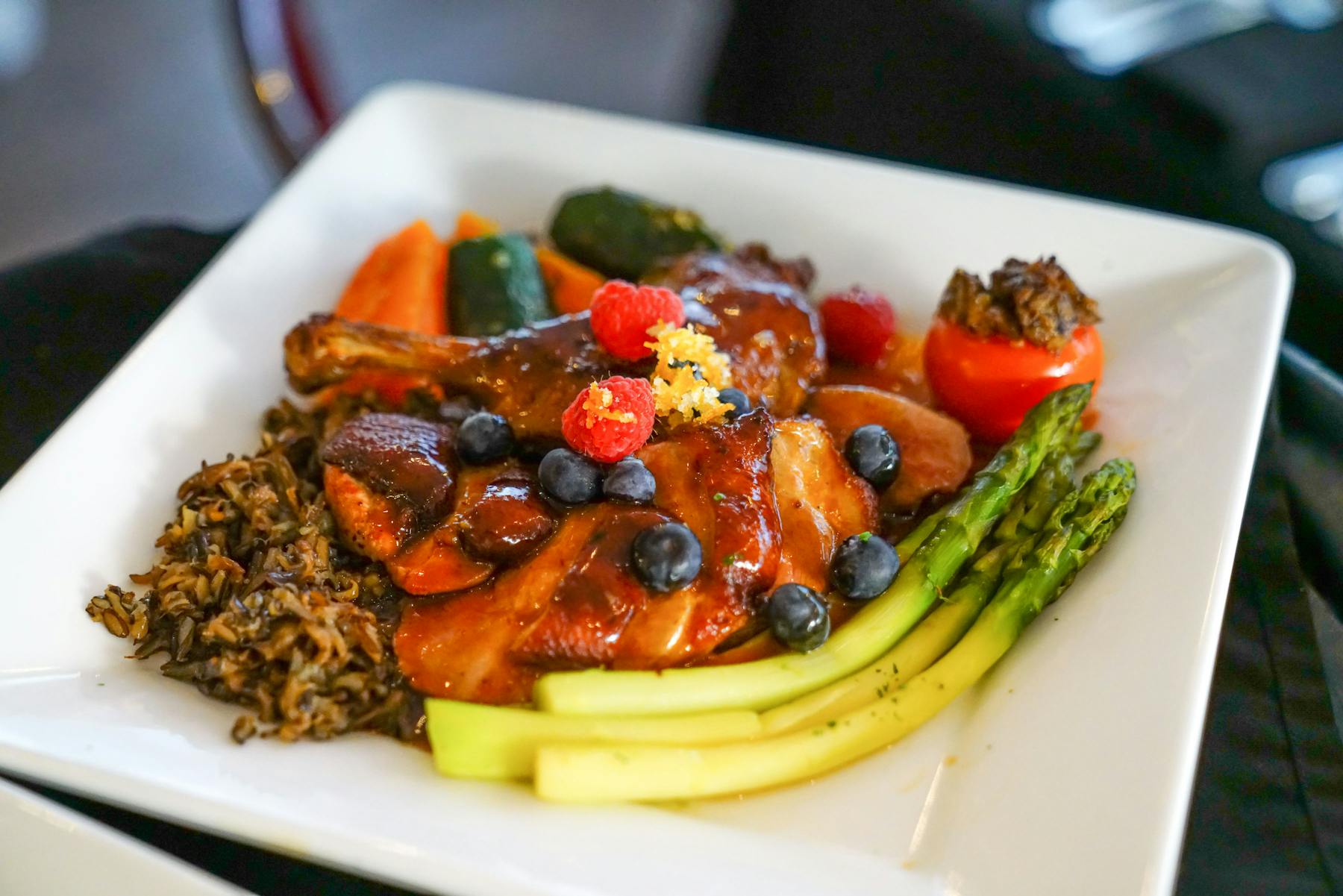 Experience award-winning Chef William Walden's extraordinary cuisine Thursday through Saturday 4p to 8pm (Early Bird Specials 4-5pm, last seating for dinner 8pm). Reservations required, call 304-263-1890 to ensure availability. *Our House follows local Health Department Guidelines for dining in at a restaurant and we work hard to ensure your health and safety during your time with us.
Download PDF
Appetizers & First Course Selections
Potage duJour

Chef's Daily Creation MP

MP

"All Hail Caesar"

Grilled Romaine, White Anchovies, Crispy Croutons, Reggiano

$12

Forest Mushroom Crepe

Madeira, Duxelles, Truffle Essence

$12

Le Pate de Campagne

Toast Points, Crudités, Grain Mustard

$14

(Served "excellent" with a taste of sauternes)

Crab Imperial Stuffed Mushrooms

Lemon Glacage, White Wine Sauce

$16

Fresh Duck Foie Gras

Brioche, Brandied Cherries, Grand Marnier Sauce

$28
Main Course Selections
My Grandmother's Savory Organic Chicken Pot Pie

$17

Authentic Thai Basil Chicken

Jasmine Rice, as in Phuket

$18

Very Lucky Duck

Roasted Magret, Leg Confit, Wild Rice, Bigarade

$36

New Orleans Shrimp N Grits

Anson Mills Organic Grits, Colossal Prawns, Shrimp Bisque, Holy Trinity

$27

Deep Sea Diver's Scallops

Sautéed as in Provence

$34

or for 2 served tableside $79

Maryland Crab Cake

With House Remoulade

$39

Sustainably Sourced Chilean Seabass

Wakame Sake Soy, Pillow of Potato and Parsnip MP

Prime Filet Mignon

Center Cut, Mushroom Medley, Madeira Sauce "et sa béarnaise

40

Chateaubriand Bouquetier du Chef for 2

Served Tableside, (Please allow 30 minutes)

$85

Chef's Surprise Tasting Menu

Available for your entire table only. If we told you it wouldn't be a surprise now would it! Wine pairings available too for your pleasure and enjoyment. MP
Delicious "Scratch" Desserts
Chocolate Pot de Crème

$10

Baked Orchard Apple Dumpling

$12

Chef's Gateau du Jour

MP

Profiteroles and Hot Chocolate Sauce

$12

Dessert Soufflés

(When Available) Today's Inspired Offering (Must be ordered with your Main Course Selections*)

$18
*Menu Subject to Change based upon what is fresh & available in the market.
Full Bar, with House Cocktails & Interesting Wine List for your pleasure. Bon Appetit!
EXECUTIVE CHEF William Walden
OWNERS Michael McCarty & Donna Cobean
Fall CURBSIDE DINNER Offerings
Chef Walden's Fresh New Fall Curbside Offerings are available Wednesday through Saturday from 4pm - 7pm. Please allow ample time as we prepare everything "a la minute" and from Scratch!
All Hail Caesar

With Grilled and Chilled Romaine, Reggiano, EVOO, Crispy Croutons, Delicious Dressing

$12

Country Pate

With Cornichons, Dijon, and Crudités

$14

Crab Imperial Stuffed Mushrooms

Baked and then Broiled

$16

Colossal Argentina Shrimp

One Pound with Old Bay and Secret Spices

$19

My Grandmother's Chicken Pot Pie

With fresh Autumn vegetables

$17

Chef's Potage du Jour:

Inquire about today's inspired preparation by the pint or quart MP

Spicy Thai Basil Chicken

As in Phuket: Jasmine Rice, Pickled Cucumbers, Bird's Eye Chili

$18

New Orleans Shrimp and Grits

Holy Trinity, Shrimp Bisque, Sassafras

$27

Center Cut (Barrell) Filet Mignon

Whipped Potatoes, Madeira Sauce, Autumn Vegetables

$40

Chef's Delicious Belgian Callebaut Chocolate Chip Cookies

Fresh out of the oven by the half-dozen

$12

Delicious Scratch Desserts

Made daily. . .Inquire about today's features!
SUNDAY BRUNCH for September 27th is SOLD OUT!
We now offer a Staff Assisted All-You-Can-Eat Sunday Brunch Buffet for dine-in. All your favorites ...arranged as you remember....but with all staff in safety attire assisting you with each station to serve you. (All Guests must wear a mask in the restaurant upon arrival and anytime you get up and move around the house (masks can be taken off at your table). We also have a "limited" Curbside Only Menu if you prefer to order ahead of time and pickup!
All You Care To Eat Sunday Brunch
Below you can find a sample menu** based on inspired cooking and market availability. Menu changes weekly, so not all items are available each week.
Chef's Soup du Jour

Peel and Eat Colossal Shrimp

With Old Bay and Spices: Cocktail Sauce and Drawn Butter

Deep Dish Quiche Lorraine

Freshly Shucked and Steamed Local Corn on the Cob

Baked Macaroni (Cavatappi) and Cheese

"All kicked up with King Cut Gruyere and Tillamook Cheddar"

Summer "foraged" Ratatouille

Thai Panang Curry

With Jasmine Rice, Spicy Pickled Garden Cucumbers

LARGE Snow Crab Clusters

These are Large 8 and up!! From the Kitchen! All you care to eat!

Omelet Station

With bell peppers, spinach, mushrooms, cheeses, sweet onions, farm sausage, and Virginia Ham. Freshly Made Warm Tart Cherry Crepes and Pastry Cream

Buttermilk Biscuits & Farm Sausage Gravy

Amish Bacon & Chef's Fresh Sausage

Potatoes Lyonnais
Cash Bar
Unlimited Mimosas and Bloody Marys

Freshly Squeezed Orange Juice
Dessert Station
Assorted Homemade Cookies

Farm Egg Custard

Fresh Seasonal Fruits

Sweet Cream Puffs
Chef's Weekly Specials
Chef Walden introduces 3 or 4 new dishes each week depending on what is fresh and in season locally. He makes everything from scratch — his breads, soups, quiches that include keto-friendly, gluten-free dishes. His Eggs Benedict and "Not Yet Famous in Martinsburg" Blueberry Pancakes are crowd favorites. Each week he uses over 300 locally-sourced organic eggs in what he serves for Sunday Brunch.
Sunday Brunch Buffet Pricing
-Adults $39.95

-Children $24 (5 - 12 years old)
Sunday Brunch CURBSIDE MENU
Please call in your ORDER on Saturday, or no later than 9AM Sunday.

Orders must be placed by phone during business hours Wednesday - Saturday or Sunday by 9am. PICKUP is now Sunday 9-11am ONLY due to the demands of our staff-assisted Sunday Brunch Buffet.

Chef's Soup Du Jour

Market Price

Peel & Eat Colossal Argentinean Shrimp

One Pound with Old Bay and Cocktail Sauce

$19

Cavatappi and Cheese

Chef's Mac - all kicked up with Tillamook and Gruyere / Quart Size

$12

Buttermilk Biscuits and Homemade Sausage Gravy

$10.95

Fresh Farm Egg Scramble

Amish Bacon or Farm Sausage, Biscuit, and Potatoes Lyonnais

$11.95

Chef's Daily Special Breakfast

Either Fluffy Blueberry Pancakes or Eggs Benedict / Market Price- Inquire

Fresh Seasonal Fruit Compote

Assortment of the freshest fruits available.

$12

Stir Fry Thai Basil Chicken

With Jasmine Rice

$18

Brioche Toast

Served with real WV Maple Syrup and with your choice of Amish thick cut bacon or homemade farm sausage as available.

$14
Bubbly and Sparkling Wines
Pfister Cremant d'Alsace BL DE B 2015 55
La Marca Prosecco 8/30
Nicholas Feuillatte Split 27
Wycliff Brut 7/26
Moscato
Canyon Road 7/26
Chardonnay
Unoaked Jefferson Chardonnay 38
Jefferson Chardonnay Reserve VA 2017 49
Dark Horse Chardonnay 2017 7/26
Pinot Grigio
Naked Grape 7/26
Riesling
Snoqualmie 7.50/28
Sauvignon Blanc
Chateau Ste Michelle 7/26
Delaporte Sancerre France 2018 68
Blush/White Zinfandel
Canyon Road 7/26
Burgundy
Bellenos Gamay Rose 2017 10/38
CH Haut la Pereyre Bordeaux 2016 48
Pierre Gelin Fixin Rouge 2016 85
Bordeaux
La Fleur D'OR Sauternes 2014 59
Fortified Wines
Grahams 6 Grapes Ruby Porto Res N/V 11 Glass of Port
Sandeman Tawny Port 10 Glass of Port
Brunello
Mocali Brunello di Montalcino 2013 110
Cabernet Sauvignon
Hobbs Cabernet Sauvignon Crossbarn Sonoma 2015 120
Lewis Cellars Cabernet Sauvignon 2016 145
Silver Oak Cabernet Sauvignon Napa 2014 195
Joseph Phelps Insignia 2014 350
Amarone della Valpolicella
Sant Antonio Amarone 2015 120
Pinot Noir
Four Bears Pinot Noir California 2018 40
Naked Grape 7/26
Rhone
Perrin Bros Cotes du Rhone 2017 44
Chateau Beaucastel Chateauneuf du Pape 2012 175
Download PDF
Aperitif 12
House blend of raspberry liquors/ bubbles
Fall Foliage 10
Bourbon/lemon/apple cider/bitters/ginger beer/CO2
POM, revisited 12
Pomegranate Vodka/fresh lime/simple/cranberry/bubbles
Ginger Rosemary Gimlet 11
Rosemary infused gin/ ginger simple/ lime/ flamed
Smoked Old Fashioned 12
Bourbon/ sugar cube/ bitters/ applewood smoke
McFarland House Tonic 10
Lemon infused gin OR vodka/ st. germaine/ tonic H20
Light My Fire 12
Bourbon/ st. germaine/ chili simple/ egg white/ Lemon
Download PDF
Sunday Brunch Cocktails
Breakfast in A Glass

Bacon Infused Bourbon/ Fresh Orange Juice

$11

Mimosa Flight

Not interested in unlimited? Try 3 different versions of a mimosa in small glasses. Orange/Cranberry/Grapefruit

$12

Tropical Bellini

Pineapple Infused Rum/Peach Schnapps/OJ/Bubbles

$10
House MOCKtails
A delicious selections of non-alcoholic drinks are also available from the bar.
Cucumber Fizz

Cucumber/Fresh Lime/Lavender simple/CO2

Fresh Squeezed Blackberry Lemonade

Blackberry/Fresh Lemon/Simple/H20

Tropicana

Pineapple/Fresh Citrus/Grenadine/Sprite

Strawberry Limeade

Strawberry/Fresh Lime/Simple/H2O

Relaxer

Fresh Orange/Fresh Lime/Lemonade

Vermerie

Fresh Mint/Fresh OJ/Fresh Lime and Lemon Grenadine/Meringue
Coffee White Russian

Classic White Russian Cocktail/Dry Shake/ Served with Coffee Ice Cubes

$11

MCFARLAND UNLIMITED SPECIAL

Bloody Mary/Mimosa/Bellini Enjoy these 3 classic cocktails all afternoon for an unbeatable price.

$14.99