Main content starts here, tab to start navigating
Menus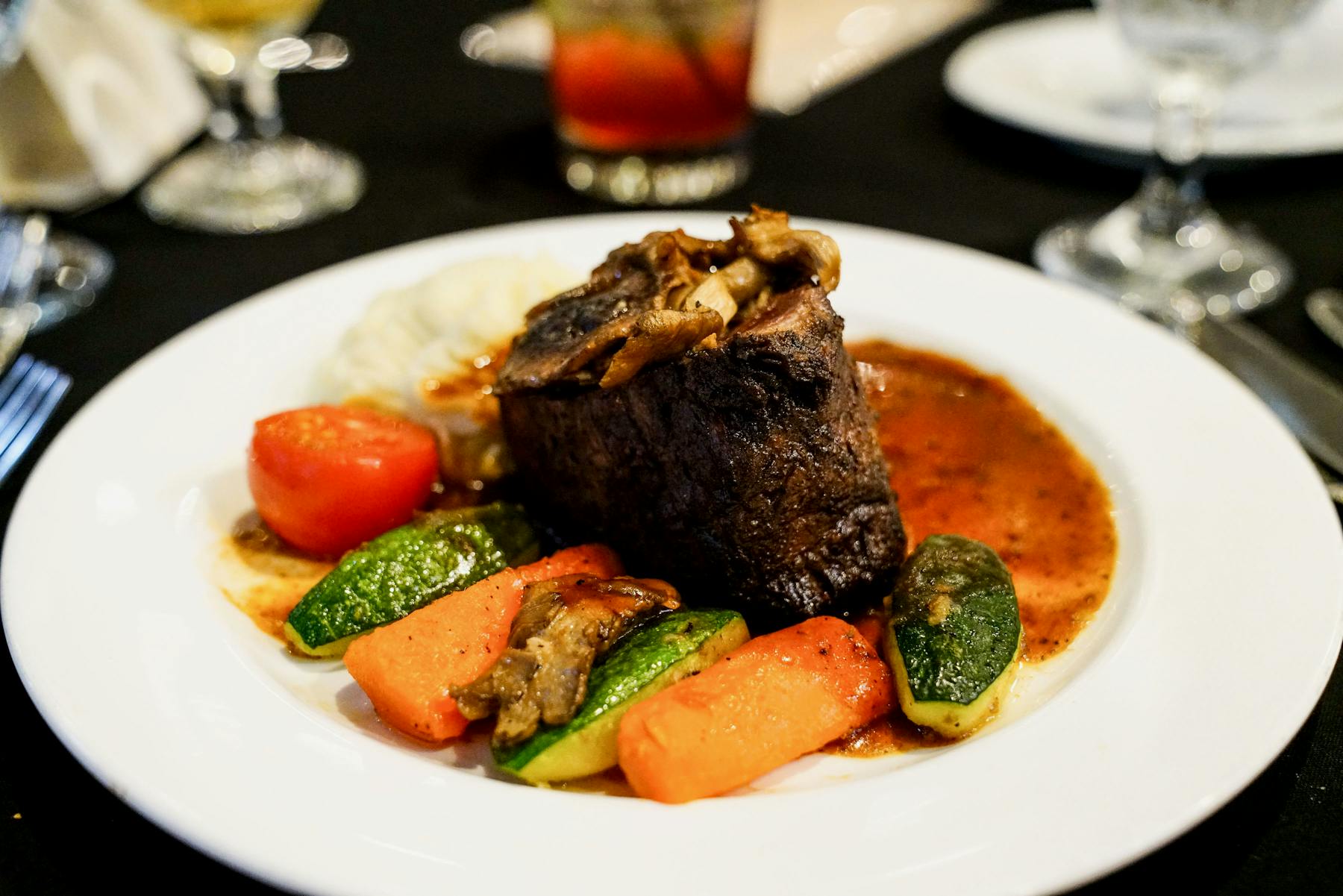 Slide 1 of 4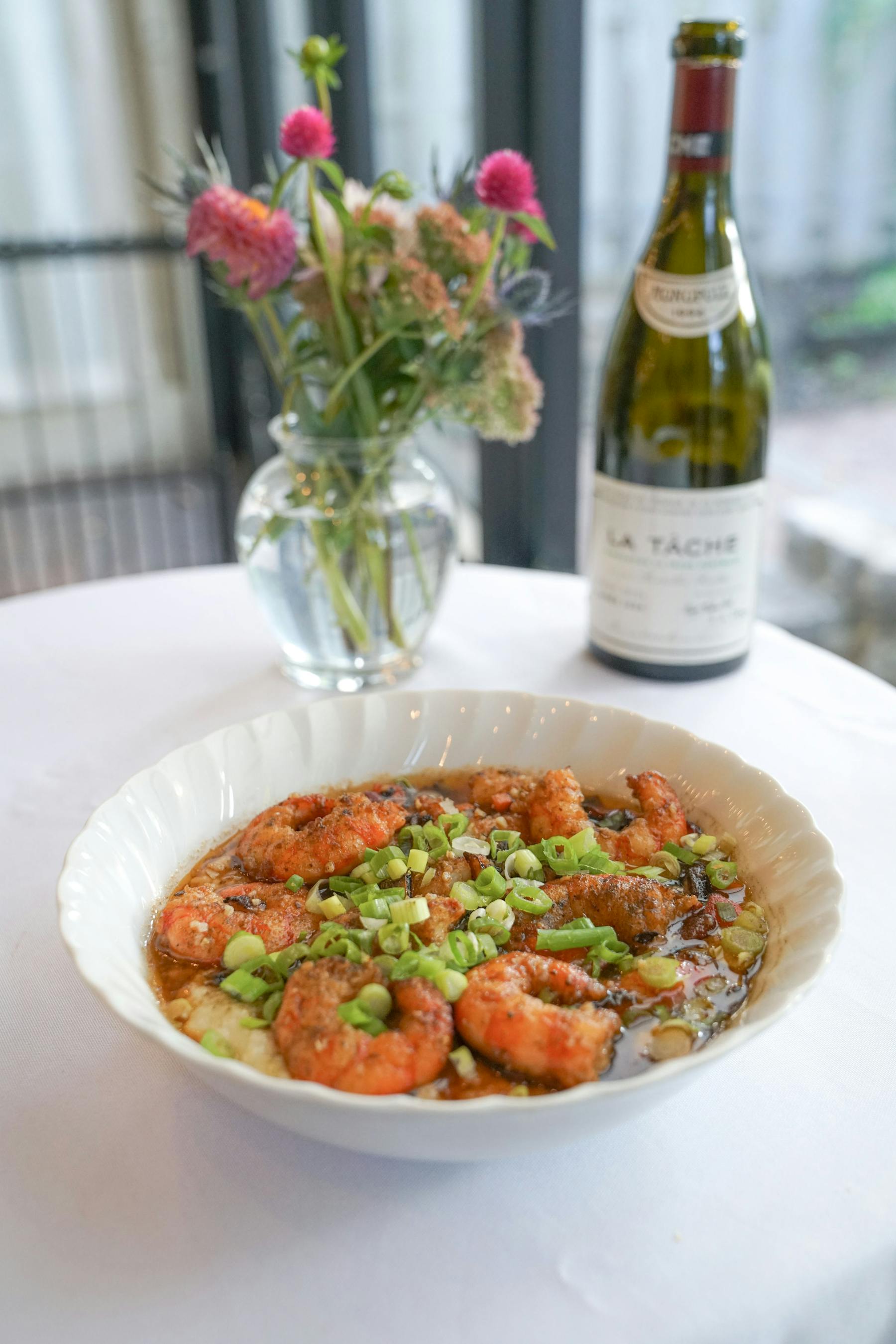 Slide 2 of 4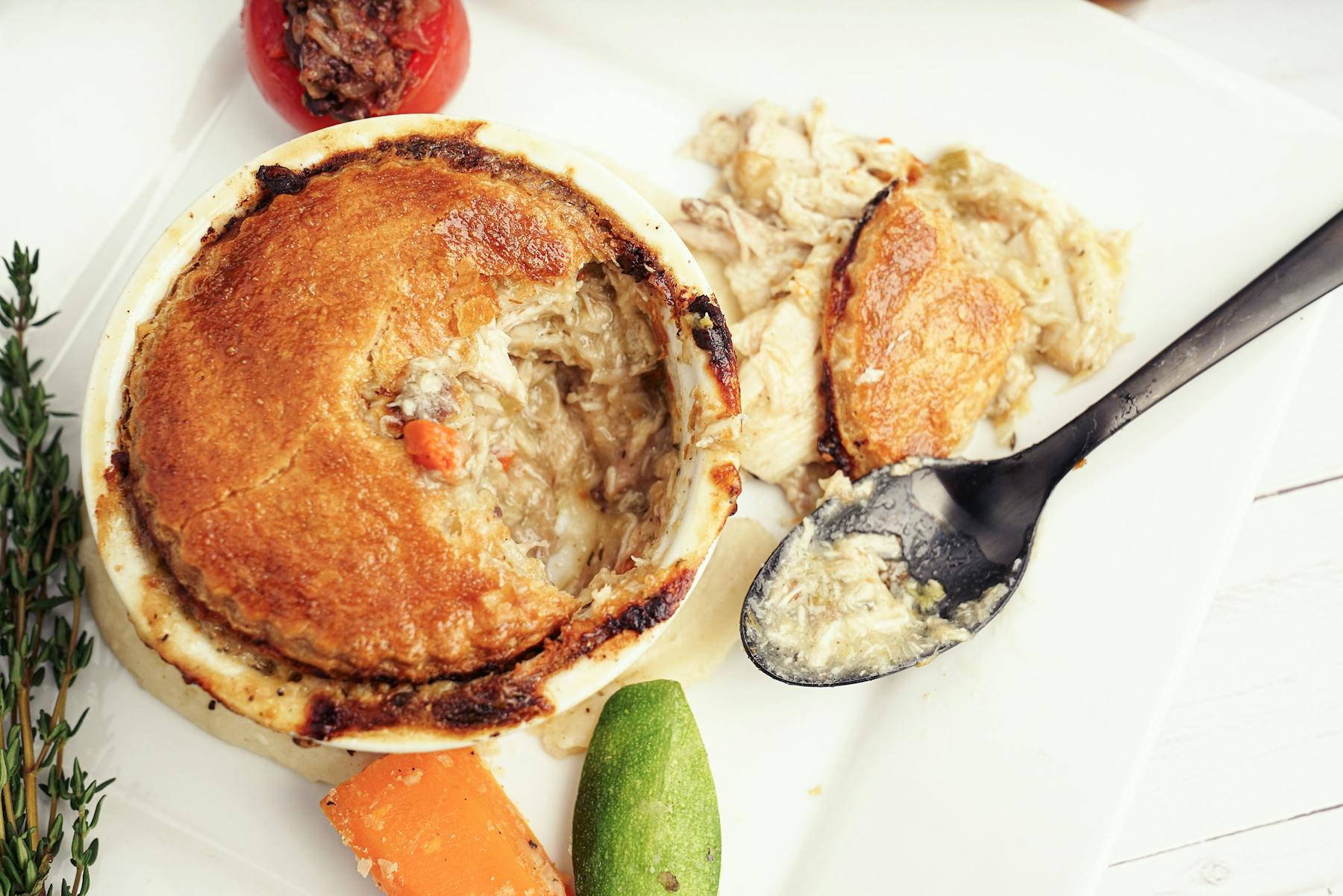 Slide 3 of 4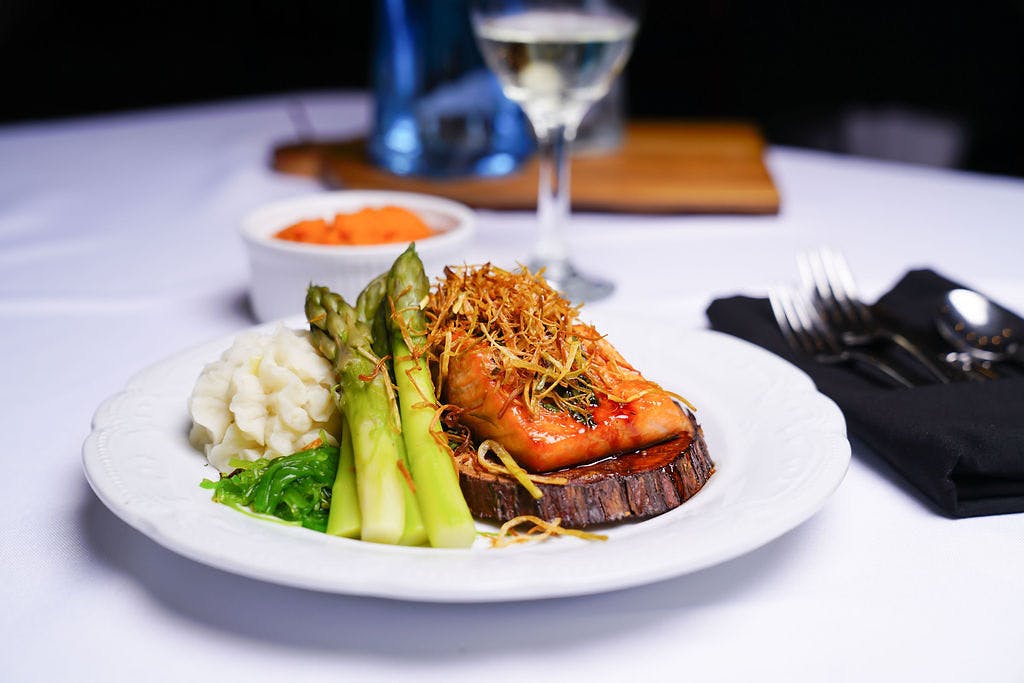 Slide 4 of 4
Experience award-winning Chef William Walden's extraordinary cuisine Thursday through Saturday 5p to 8pm (last seating for dinner 8pm).
Reservations required, call 304-263-1890 to ensure availability.
Available Curbside 4-7pm!
Dinner: 5pm-8pm/Thursday, Friday, Saturday
Sunday Brunch: 10am-2pm
*Our House follows local Health Department Guidelines for dining in at a restaurant and we work hard to ensure your health and safety during your time with us.
Download PDF
Appetizers & First Course Selections
Our Soup du Jour

Made Fresh Daily

MP

Gastropub Macaroni & Cheese

Cavatappi, Mornay Sauce, Country Ham "Bacon"

$12

House "Salade Maison"

Fresh Organic Greens, Accoutrements, House Vinaigrette

$10

"Peel and Eat" Large Argentinian Red Shrimp

1/2 pound $10 / 1 pound $16
Main Course Selections
Bangkok Thai Basil Chicken

Jasmine Rice, Spicy Pickled Cucumbers

$19

Delicious Organic Chicken Pot Pie

Fresh Vegetables, Savory Gravy, Homemade Flaky Pastry

$17

Our Poisson du Jour

Inquire about Today's Fresh & Interesting Offering

MP

Taste of Italy

Today's Delicious and Authentic Preparation MP

Center Cut Filet Mignon

Bouquetier du Chef et sa Bearnaise

$45

Chateaubriand for 2

Bouquetier du Chef et sa Bearnaise (Served Tableside)

$90
Desserts
We offer a very tempting selection of Homemade Desserts and Souffles! Merci!
Daily Selections

Please inquire about our "Sweet Temptations" dessert selections made fresh daily in our "scratch" kitchen.
*Menu Subject to Change based upon what is fresh & available in the market.
How about a Wassail? Hot Mulled Wine? An Aperitif? Amerseidel? Or one of our carefully crafted libations. Full Bar, with House Cocktails & Wine List for your pleasure.
EXECUTIVE CHEF William Walden
OWNERS Michael McCarty & Donna Cobean
We're excited to share that our guests can once again serve themselves at our All-You-Care-To-Eat Sunday brunch buffet. All guests must wear a mask in the restaurant upon arrival and anytime you get up and move around the house. Masks can be taken off at your table.
All You Care To Eat Sunday Brunch
Below you can find this Sunday's fresh menu** based on inspired cooking and market availability. Menu changes weekly, so not all items are available each week.
Chef's Soup du Jour

Steamed Colossal Argentinian Spiced Shrimp

with Old Bay

House made Brioche French Toast

with real Virginia Maple Syrup

- Amish Bacon & Chef's Fresh Sausage

Deep Dish Quiche

Buttermilk Biscuits & Chef's Farm Sausage Gravy

Potatoes Lyonnais

Stir Fry Thai Basil Chicken

Jasmine Rice

Chef's Weekly Carved Special

Chef's Famous Blueberry Pancakes
Made-to-Order Omelet Station
Chef's Homemade Dessert Station
Cash Bar
Unlimited Mimosas and Bloody Marys

$14.99

Freshly Squeezed Orange Juice
Sunday Brunch Buffet Pricing
-Adults $35

-Children $24 (5 - 12 years old)
We specialize in full-service weddings, corporate groups, birthdays and anniversaries, bar and bat mitzvah's, office parties, bridal showers, and all other private events, specifically catering to your every need.
Bring the unparalleled cuisine of renowned chef and restaurateur, William
J. Walden, to your special event! A meal by Chef W.W. is about so much more than the food. It's an experience that one will not soon forget. His approach to food could best be described as "approachable elegance." His 35+ year career has seen him bring his unique culinary talents to restaurants in South Florida and the Washington, DC metro area, as well as private events for dignitaries, Secretaries of State, celebrities, politicians and more.
Download PDF
CANAPÉS AND HORS D'OEUVRES
All canapes and hors d'oeuvres are priced at 2 pieces per person, except for the charcuterie* and shots of soup.
A TARTARE OF SALMON

Carefully prepared with the finest Scottish Salmon

SMOKED SALMON

Brioche Toast, Capers, Shaved Bermuda Onion, Dill

ROQUEFORT GOURGERES

Whipped Butter, Toasted Macadamia Nuts, Grapes

BELGIAN ENDIVES AND RATATOUILLE NIÇOISES

COUNTRY PATE AND CORNICHONS

Whole Grain Mustard, Toasted Brioche

CHEF'S FOIE GRAS TERRINE

Brioche, Membrillo, Figs

A "GLASS" OF BLUE CRAB

Avocado and Gazpacho Vinaigrette

BACON WRAPPED SEA SCALLOPS

WARM BUTTERMILK VIRGINIA HAM BISCUITS

Honey Mustard

CITRUSY SHRIMP SALAD ON SILVER SPOONS

CAVIAR BLINIS

Beluga, Osetra, Sevruga, Salmon Roe

ROQUEFORT GRAPES

Rolled in Toasted Macadamias

INDONESIAN SATAYS OF PORK, BEEF, OR CHICKEN

Tamarind Peanut Sauce

COCKTAIL CRAB CAKES

Creole Remoulade

FRESH JUMBO SHRIMP TOWER

Old Bay and Cocktail Sauce, Lemon

SWEDISH OR SWEET AND SOUR MEATBALLS

"SHOTS" OF HOMEMADE SOUPS

Lobster Bisque, Squash Apple, Mulligatawny, Wild Mushroom Madeira, Asparagus, Maryland Crab, Chicken Velouté, Broccoli and Cheddar, Potato Leek, and Vichyssoise

ARTISAN CHARCUTERIE DISPLAY

Shaved Meats, Artisan Cheeses, Fine Accoutrements, Artichoke Hearts, Roasted Peppers, Olive Meze
SALADS AND FIELD GREENS
MCFARLAND HOUSE GREEN SALAD

Organic Greens, Champagne Vinaigrette

ALL HAIL CAESAR

Classic Hearts of Romaine, Reggiano, Anchovy Emulsion

AVOCADO AND SHRIMP

Citrus Vinaigrette

GREEN GODDESS

Field Greens, Watercress, Endives, Radicchio, Tomatoes

MAYTAG

Roquefort, Field Greens, Champagne Vinaigrette, and Caramelized Apples

MONTRACHET

Roasted Beets, Candied Walnuts, Aged Balsamic, Organic Lettuces, Fresh Field Greens

ANTIPASTO

Imported and Domestic Fine Cheeses, Meats, Olives, and Oregano Red Wine Vinaigrette: Bibb Lettuce

MARYLAND CRAB LOUIE

Bibb Lettuce, Roasted Red Bell Peppers, Aioli

KOSHER NOSHER

Smoked Salmon, Sable, and Trout: Shaved Bermuda Onion, Capers, Cream Cheese, Lemon, and Cucumbers
MAIN COURSES
All entrees are priced per person. We can customize accoutrements and requests to suit your specific needs and dietary requests.
VEGAN THAI CURRY VEGETABLES

Jasmine Rice, Authentic, Fresh Pineapple

COQ AU VIN ROUGE

Classic French Preparation, Mushrooms, Carrots, Pearl Onions, Cabernet Sauvignon, Egg Pappardelle

BOEUF BOURGUIGNON

Classic French Stew, Bacon Lardons, Burgundy Wine, Pearl Onions, Carrots, Mushrooms, Irish Champs or Pappardelle

WILLY'S SOUTHERN BUTTERMILK FRIED CHICKEN

Breast, Leg, and Thigh: Savory Biscuits, Pimento Cheese, House Pickles, Seasoned Collards

BANGKOK STIR FRIED CHICKEN WITH BASIL

Spicy or Mild, Jasmine Rice, Pickled Cucumbers, Banana Leaf

AWARD WINNING DOMESTIC RACK OF LAMB

Herb Crusted and Roasted to specified temperature, Tarragon Jus, Seasonal Vegetables, and Irish Champs

BARREL CUT FILET MIGNON

Upper 2/3rds Choice or Prime: Seared or Grilled to specified Temperature, Madeira Sauce, Seasonal Vegetables, Irish Champs

CIDER BRAISED BERKSHIRE PORK CHOP

Double Cut, Brandied Cherries, Granny Smith Apple Mash, Seasonal Vegetables, Port Wine Jus

JAIL ISLAND SALMON

Crispy Skin, Buttery Leeks, Tomato Fondue, Beurre Blanc

DEEP SEA DIVER'S SCALLOPS

Ratatouille Nicoise, Sauteed Zucchini, Garlic and Herbs as in Provence

POACHED LOCH DUART SCOTTISH SALMON

Saffron Julienne Vegetable Broth, Parisian Potato, Shaved Fennel

WHOLE MAINE LOBSTER

Grapefruit, Orzo, Ginger Citrus Butter

CHILEAN SEABASS

Pan Roasted, Wakame Sake Sauce, Seasonal Vegetables
HOMEMADE DESSERTS & SWEET TEMPTATIONS
BELGIAN POT AU CHOCOLAT

Chantilly Cream, Raspberry, Myers Rum Sabayon

WEST VIRGINIA ORCHARD APPLE TART

Vanilla Ice Cream, Caramel Drizzle

BAKED ORCHARD APPLE DUMPLINGS

Hot Caramel Sauce

VALRHONA CHOCOLATE PIE

Chantilly Cream, Strawberry Coulis

FRESH SEASONAL FRUIT TART

Strawberry, Kiwi, Blueberry, Raspberry, Blackberry, Cara Cara Orange, Farm Egg Custard, Apricot Glaze

CRÈME BRULEE

Tahitian Vanilla, Raspberry 'Salad'

PECAN TUILE

Gelato, Chambord, Seasonal Fresh Berries, Whipped Cream, Myers Rum Sabayon, Coulis

FRESH STRAWBERRY CAKE

Farm Egg Genoise, Whipped Cream, Fresh Strawberry Sauce

CHOCOLATE CAKE

Chocolate Ganache, Buttercream, Chocolate Sauce
Bubbly and Sparkling Wines
Pfister Cremant d'Alsace BL DE B 2015 55
La Marca Prosecco 8/30
Nicholas Feuillatte Split 27
Wycliff Brut 7/26
Moscato
Canyon Road 7/26
Chardonnay
Unoaked Jefferson Chardonnay 38
Jefferson Chardonnay Reserve VA 2017 49
Dark Horse Chardonnay 2017 7/26
Pinot Grigio
Naked Grape 7/26
Riesling
Snoqualmie 7.50/28
Sauvignon Blanc
Chateau Ste Michelle 7/26
Delaporte Sancerre France 2018 68
Blush/White Zinfandel
Canyon Road 7/26
Burgundy
Bellenos Gamay Rose 2017 10/38
CH Haut la Pereyre Bordeaux 2016 48
Pierre Gelin Fixin Rouge 2016 85
Bordeaux
La Fleur D'OR Sauternes 2014 59
Fortified Wines
Grahams 6 Grapes Ruby Porto Res N/V 11 Glass of Port
Sandeman Tawny Port 10 Glass of Port
Brunello
Mocali Brunello di Montalcino 2013 110
Cabernet Sauvignon
Hobbs Cabernet Sauvignon Crossbarn Sonoma 2015 120
Lewis Cellars Cabernet Sauvignon 2016 145
Silver Oak Cabernet Sauvignon Napa 2014 195
Joseph Phelps Insignia 2014 350
Amarone della Valpolicella
Sant Antonio Amarone 2015 120
Pinot Noir
Four Bears Pinot Noir California 2018 40
Naked Grape 7/26
Rhone
Perrin Bros Cotes du Rhone 2017 44
Chateau Beaucastel Chateauneuf du Pape 2012 175
Download PDF
Aperitif 12
House Blend of Raspberry Liquors / Bubbles
Cool As A Cucumber 12
Gin / Elderflower / Citrus / Fresh Cucumber / CO2
Boulevardi - Ayyyy 12
Bourbon / Aperol / Sweet Vermouth / Apple Wood Smoke
Italian Margarita 12
Tequila / Mezcal / Amarreto / Lime / Lemon / Agave
POM Revisted 12
Pama / Lime / Ginger / Granberry / Bubbles
Dessert (Maple Syrup Old Fashioned) 12
Bourbon / Bitters / Maple Syrup / Cherry
Coffee White Russian

Classic White Russian Cocktail/Dry Shake/ Served with Coffee Ice Cubes

$11

MCFARLAND UNLIMITED SPECIAL

Bloody Mary/Mimosa/Bellini Enjoy these 3 classic cocktails all afternoon for an unbeatable price.

$14.99
Sunday Brunch Cocktails
Breakfast in A Glass

Bacon Infused Bourbon/ Fresh Orange Juice

$11

Mimosa Flight

Not interested in unlimited? Try 3 different versions of a mimosa in small glasses. Orange/Cranberry/Grapefruit

$12

Tropical Bellini

Pineapple Infused Rum/Peach Schnapps/OJ/Bubbles

$10
House MOCKtails
A delicious selections of non-alcoholic drinks are also available from the bar.
Cucumber Fizz

Cucumber/Fresh Lime/Lavender simple/CO2

Fresh Squeezed Blackberry Lemonade

Blackberry/Fresh Lemon/Simple/H20

Tropicana

Pineapple/Fresh Citrus/Grenadine/Sprite

Strawberry Limeade

Strawberry/Fresh Lime/Simple/H2O

Relaxer

Fresh Orange/Fresh Lime/Lemonade

Vermerie

Fresh Mint/Fresh OJ/Fresh Lime and Lemon Grenadine/Meringue